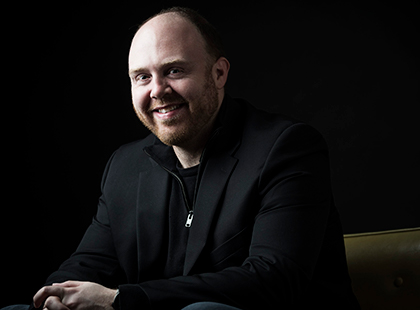 Dr. Timothy Shade
Youth Wind Ensemble Conductor
Dr. Timothy Shade is the currently Director of Bands at Wichita State University in Wichita, Kansas. Previous appointments include Music Director and Principal Conductor of the Alhambra Orchestra (FL), Visiting Director of Orchestras at Florida Atlantic University, and Director of Instrumental Music at Bethel College (KS). He has garnered praise for his exciting programming, engaging personality and "marvelous conducting." Equally comfortable in the orchestral and wind realms, Shade has worked with Greater Miami Symphonic Band, The New River Orchestra, The Naples Philharmonic, The Frost Wind Ensemble, The Florida Youth Symphony, The Wichita Wind Ensemble, The Newton Mid-Kansas Symphony Orchestra, and the Delano Chamber Orchestra.
Under Dr. Shade's leadership, the instrumental music program at Bethel College increased in size and intensity. In February 2012, the Bethel College Wind Ensemble gave its first-ever performance at the Kansas Music Educators Association annual in-service workshop. In that same year he was honored by the Kansas Bandmasters Association with the "Outstanding Young Bandmaster" award for the state of Kansas. Since his arrival at Wichita State, the bands have experienced a significant resurgence in prominence at the local and national level. The 2017-2018 season contained performances at the Kansas Music Educators Association In-Service Workshop and the College Band Directors National Association Southwest Division Conference. Dr. Shade holds a music performance degree in euphonium and jazz trombone from Youngstown (Ohio) State University and did his graduate work as a graduate assistant in the University of Miami's Frost School of Music, Coral Gables, Fla., where he completed his Masters and Doctoral degrees in euphonium and conducting respectively.
As a performer, Dr. Shade has played in venues from New York's Carnegie Hall to the Carnival Cruise Lines' m.s .Inspiration. An active euphonium soloist, Dr. Shade has given more than 100 performances in recitals and as a guest soloist. He has appeared with the Youngstown State University Wind Ensemble, the Dana All-Star Band, the Dana Chamber Orchestra, the W.D. Packard Band, the University of Miami Symphonic Winds, the Greater Miami Symphonic Band, Newton Mid-Kansas Symphony Orchestra, and the Wichita Wind Ensemble, among others. A proponent for new music, Dr. Shade has premiered several new works and is currently in the process of commissioning more repertoire for the euphonium. In the fall of 2011, Dr. Shade commissioned and premiered PARALLAX by Thomas Sleeper. PARALLAX was recently released on the album "Thomas Sleeper Symphony No. 3" with Shade as the soloist. Also a busy jazz trombonist, Dr. Shade has shared the stage with many well-known performers such as Wessell "Warm Daddy" Anderson, John Clayton, Harold Danko, Joey DeFrancesco, Conrad Herwig, Sean Jones, Darren Kramer, Wynton Marsalis, Jim McNeely, Bernadette Peters, and the Modernaires.
The promotion and creation of new music is a passion of Shade's. He has been involved in over 15 commissions and has worked with composers such as David Maslanka, Andrew Boysen Jr., Steven Bryant, Edward Largent, James Leatherbarrow, Jonathan Newman, Christopher Rouse, Michael Daugherty, Roberto Sierra, Paul Rudy, Steve Danyew, Derek Jenkins, Thomas Sleeper, Paul Dooley, and James Syler. In Spring 2013, Dr. Shade premiered This World Alive by Steve Danyew, a piece for winds and film based on the work of Ansel Adams. In 2014 he was involved with commissioning a wonderful song cycle for chamber winds also by Steve Danyew, Alcott Songs. The 2015-16 season saw a commission and premiere by fabulous young composer Javier Albornoz for orchestra entitled Mundus Novus. Current projects include an audience participation/media and wind ensemble piece from Derek Jenkins and a new symphony for wind ensemble from James Syler.