MEET THE CONDUCTORS
Youth Symphony
Dr. Mark Laycock
Director of Youth Orchestras Program
Youth Symphony Conductor
Fred and Mary Koch Foundation Endowed Chair
Dr. Laycock serves as the Director of Orchestras at Wichita State University where he holds the Ann Walenta Faculty of Distinction Endowed Professorship; he serves as Director of Orchestras and Coordinator of Strings. Recent activities of the WSYO Symphony Orchestra include international tours to Spain and Canada, a concert at Carnegie Hall, and multiple invited performances at Kansas Music Educators Association (KMEA) In-Service Workshops. Dr. Laycock has conducted the Wichita Symphony Orchestra in Classics, Pops, and Young People's Concerts. He is a member of the Board of Directors of the Midwest International Band and Orchestra Clinic; he is Chair of Orchestra Activities. He has conducted All-State, Region, and District orchestras throughout the country. In May 2016, he presented professional development sessions for instrumental music educators in Brisbane, Australia and returned in September to conduct the Sir Charles Mackerras String Orchestra of the Queensland State Honours Ensemble Program. He earned a Doctor of Arts degree in orchestral conducting from the University of Northern Colorado. Dr. Laycock holds a Master of Music degree in instrumental conducting from the University of Nebraska-Lincoln and a Bachelor of Arts degree in music history and literature from the University of Southern California.
Repertory Orchestra
Dr. Wesley DeSpain, Conductor
Delmar and Mary Klocke Endowed Chair 
Dr. Wesley DeSpain began directing the high school and middle school orchestras of the Derby Public Schools in the Fall of 2010. He conducted the Friends University Community Orchestra from 2010 - 2014 and is currently in his sixth season as Music Director and Conductor of the Delano Chamber Orchestra. Dr. DeSpain was the Interim Director of Orchestras at Wichita State University for two years (2004 - 2006) and performed as clarinetist with the Wichita Symphony Orchestra for 25 seasons (1984 - 2009). His summer activities include teaching at Camp Allegro and directing two youth orchestras sponsored by the Delano Chamber Players. He is an alum of WSYO and was a member of the Youth Symphony during his Junior and Senior years at Wichita East High School. Dr. DeSpain holds degrees from Baptist Bible College (B.A.), Wichita State University (B.M.E., M.M.E., M.M.), and the University of Oklahoma (D.M.A.). He served as Chair of the Kansas Music Educators Assocation All-State Orchestra from 2015 - 2017.
Youth Chamber Players
Eric L. Crawford, Conductor
Eric Crawford was born in Dayton, Ohio, where he began playing the double bass at age ten. He received his Bachelor of Music Performance degree from Eastman School in Rochester, New York, and his Master of Music degree from Wichita State University. Mr. Crawford has played with the Wichita Symphony Orchestra for 19 seasons and with the Music Theatre Wichita pit orchestra for 15 seasons. He currently teaches orchestra at Wichita High School East, where he is also the Chair of the Performing Arts Department. Mr. Crawford serves as the Orchestra Curriculum Coach for the Wichita Public Schools. An active clinician and guest conductor, Mr. Crawford has directed numerous student groups throughout the midwest. He is also the Program Director for "Bows at the Barn," a summer camp for middle school and high school orchestra students. He served as President of the Kansas chapter of the American String Teachers Association from 2013 - 2015 and is current President of the Wichita Musician's Association.
---
Wichita Symphony Youth Orchestras activities are made possible with the generous support provided by Textron Aviation, The Sam and Rie Bloomfield Foundation, and The City of Wichita.

---
WSYO Membership Requirements:
Membership is by audition only. Members must also have the recommendation of their orchestra and/or band directors. (Exceptions are made for students from schools that have no orchestra or band program and students that are homeschooled.)
Members of WSYO are required to participate in Saturday morning rehearsals from 9am to 12pm, and some Sunday afternoon rehearsals from 2pm - 5pm. WSYO holds only one rehearsal per weekend except for concert weekend dress rehearsals.
Rehearsals are usually held at the Duerksen Fine Arts Center on the Wichita State University campus. Some rehearsals may occur at Wichita High School East and Century II Concert Hall.
WSYO concert seasons typically run from mid-August through March with a break from rehearsals during December. (Subject to Change)
For More Information: 
For more information on the Wichita Symphony Youth Orchestras Program (WSYO), contact Tiffany Bell, Education & Community Engagement Manager at 316-267-5259 ext 105 or tbell@wso.org.
---
LIKE WSYO ON FACEBOOK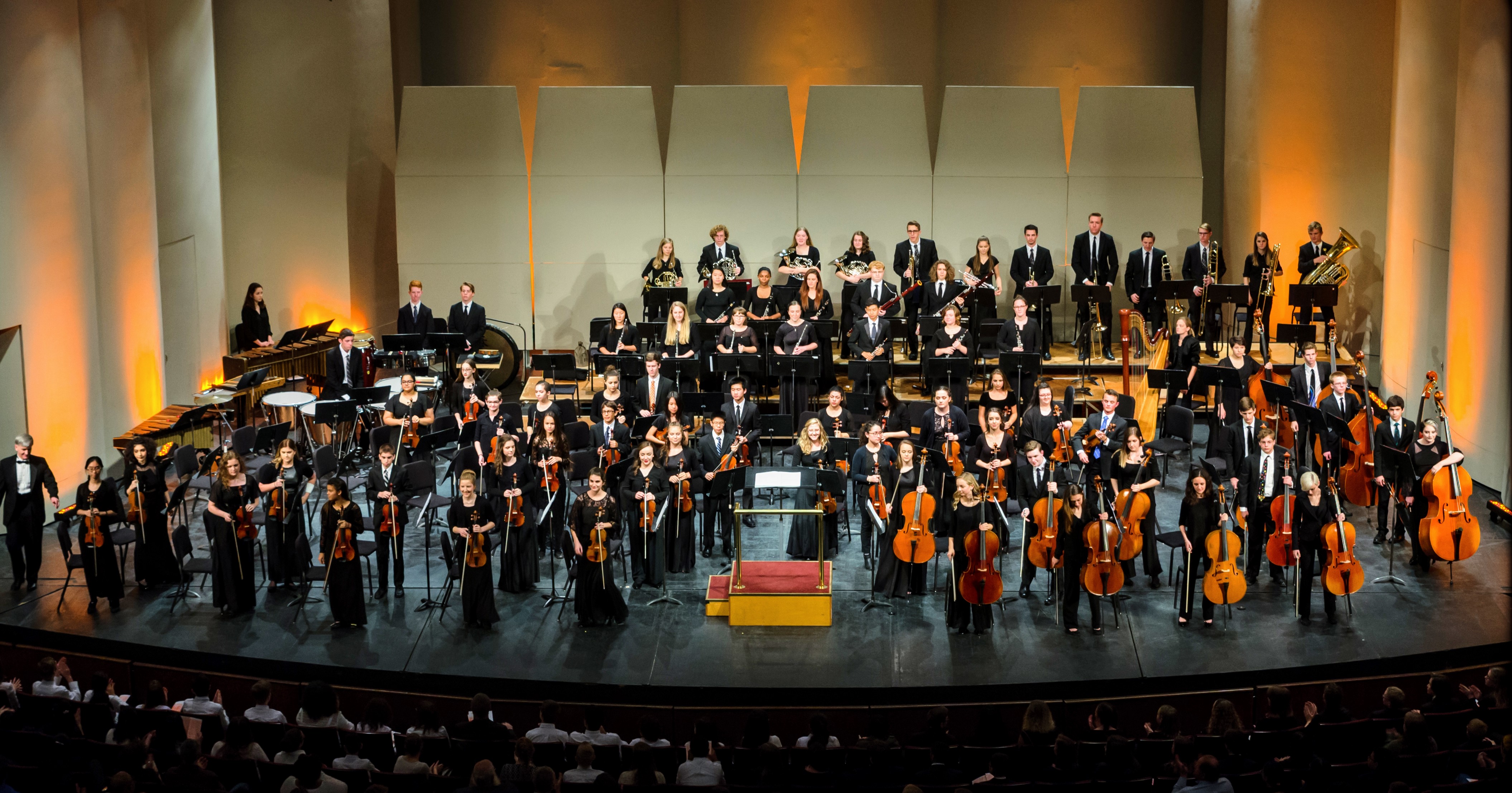 ---
WSYO YOUTH TALENT AUDITIONS & AWARDS
Saturday, December 9 @ 1 PM
Duerksen Fine Arts Center, Wichita State University
Every year, the Wichita Symphony holds the annual Youth Talent competition for members of the Wichita Symphony Youth Orchestras. The auditions are open to the public. The selection committee for these awards consists of the conductors of the Repertory Orchestra and Youth Symphony and two professional musicians from the community. These auditions showcase the talent of Wichita's brightest young musicians and provide opportunities for scholarships to attend music camps and post-secondary schools as future music majors.