Congratulations to our 2017 Naftzger Young Artists Auditions Winners: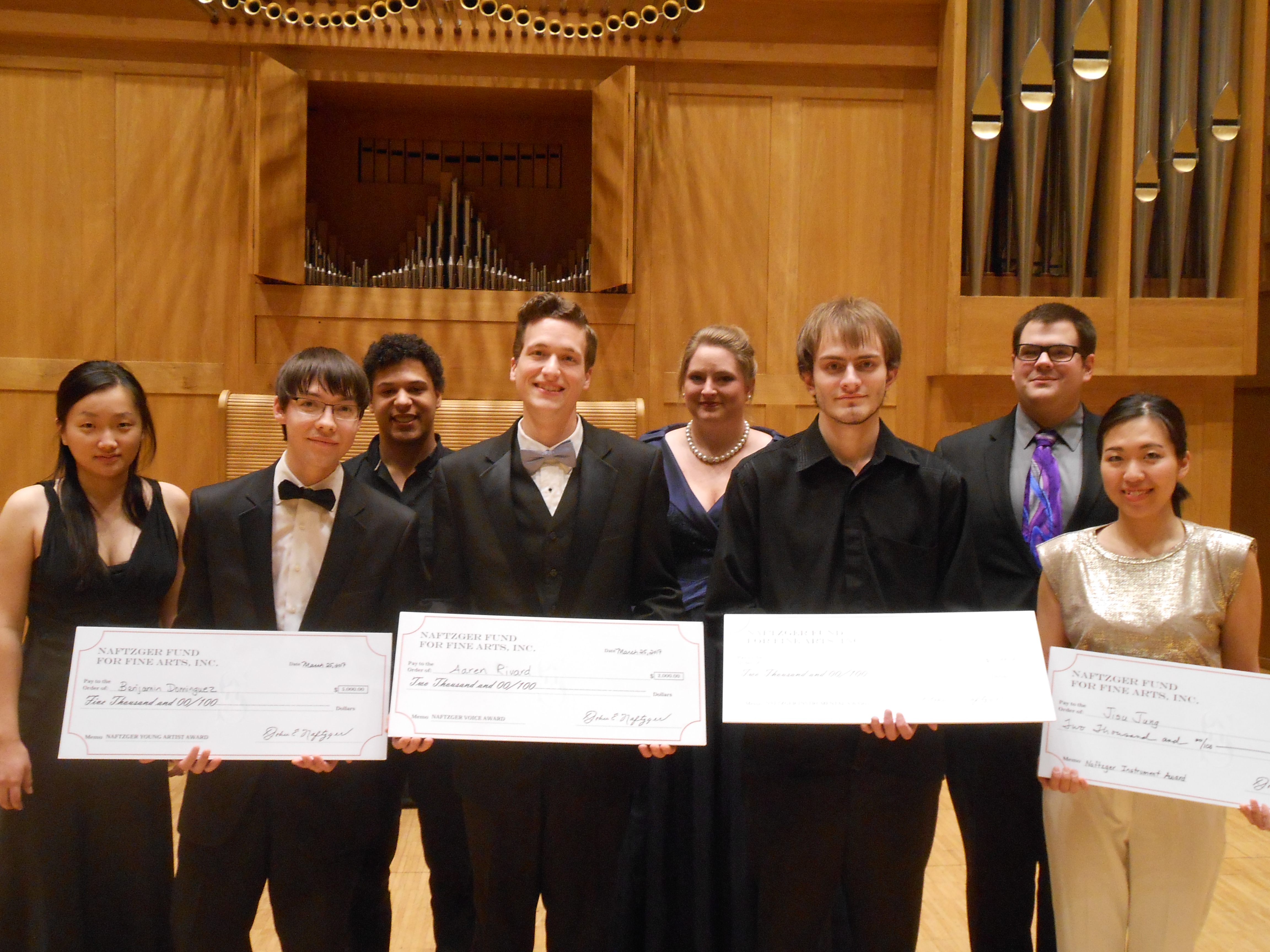 Pictured from left to right: Mi Ou Lee (piano), Benjamin Dominguez (piano, overall winner), Thomas Cooper (violin), Aaren Rivard (tenor, vocal division winner), Renee Macdonald (soprano), Igor Khukhua (violin, strings division winner), Luke Echkoff (clarinet), Jisu Jung (Marimba, winds/brass/percussion division winner)
OVERALL WINNER AND NAFTZGER YOUNG ARTIST
Benjamin Dominguez of the University of Kansas, piano
$5,000 Grand Prize
WOODWINDS/BRASS/PERCUSSION DIVISION
First Place: Jisu Jung of the Peabody Conservatory
$2,000 Prize
Runner Up: Luke Eckhoff of DePaul University, clarinet
​$500 Prize
STRINGS DIVISION
First Place: Igor Khukhua of Park University, violin
$2,000 Prize
​Runner Up: Thomas Cooper of the Oberlin Conservatory, violin
​$500 Prize
VOCAL DIVISION
First Place: Aaren Rivard of Wichita State University, tenor
$2,000 Prize
​Runner Up: Renee Macdonald of Wichita State University, soprano
​$500 Prize
PIANO DIVISION
Runner Up: Mi Ou Lee of the University of Kansas
$500 Prize
2018 Naftzger Auditions and Awards
First Round
TBD
Finals
TBD
Prizes
One person will be named the Naftzger Young Artist and win $5,000. Three other division prizes will be awarded $2,000 each, and four division runner-up awards of $500.
Requirements
Complete information and an application form will be posted as it becomes available. When the application has been posted, please mail your completed application with your entry fee and recording to:
Naftzger Auditions
Wichita Symphony Society, Inc.
Century II Concert Hall
225 W Douglas, Suite 207
Wichita, KS 67202
IMPORTANT NOTE: No handwritten forms will be accepted. You must download the form, fill out the information required, print it and mail it along with your entry fee.