Congratulations to our 2018 Naftzger Young Artists Auditions Winners: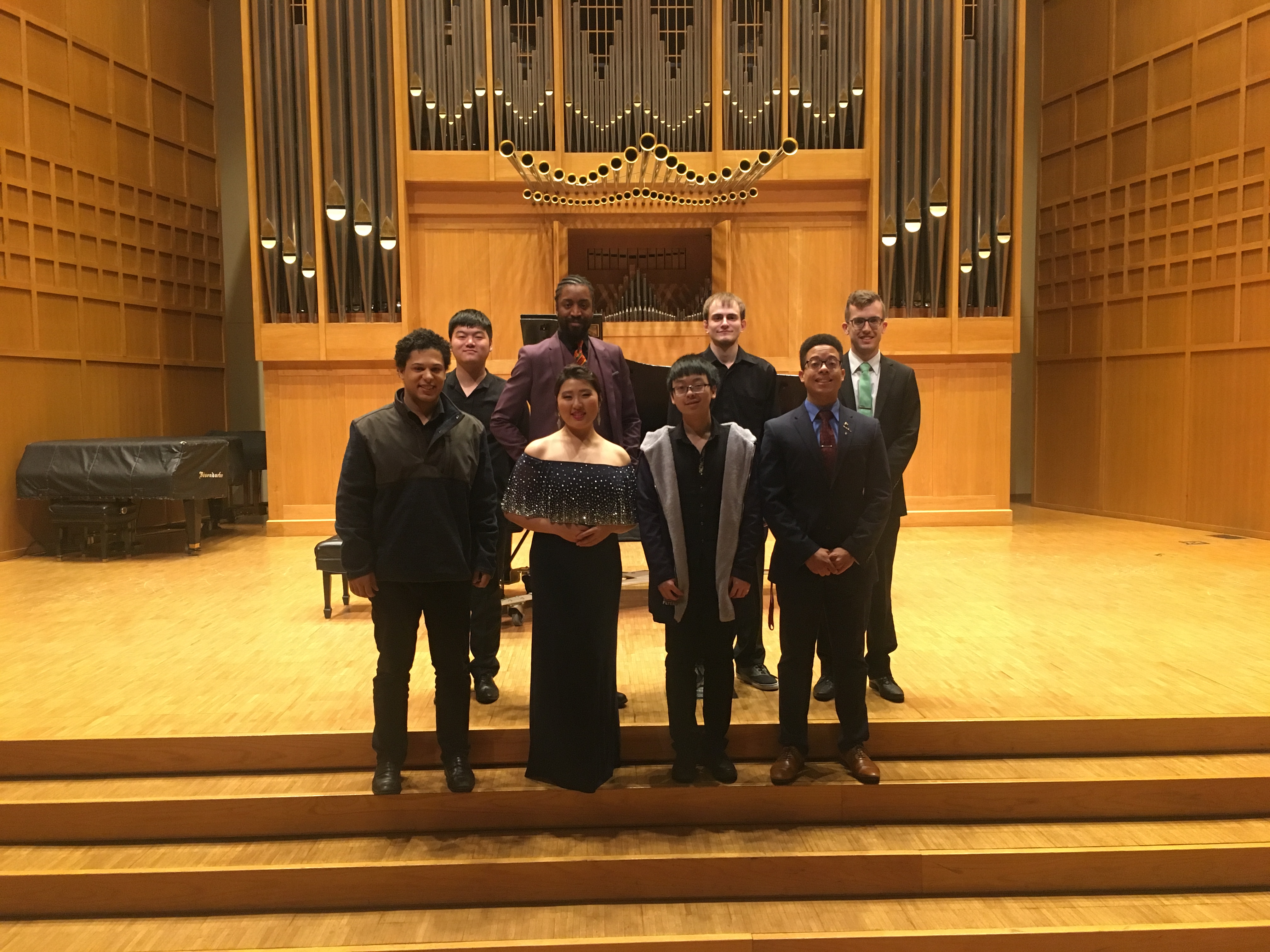 Pictured from left to right: Front Row - Thomas Cooper (violin), Beatrice Kim (soprano), Junwen Liang (piano), Dorien Tate (bass trombone). Second Row - Malcolm Liu (piano, division winner), Dorian McCall (bass-baritone, voice division winner), Igor Khukhua (violin, strings division winner), Damian Cheek (saxophone, overall winner)
OVERALL WINNER AND NAFTZGER YOUNG ARTIST
Damian Cheek, University of Oklahoma, saxophone
$5,000 Grand Prize
WOODWINDS/BRASS/PERCUSSION DIVISION
Runner Up: Dorien Tate, Oklahoma State University, bass trombone
​$500 Prize
STRINGS DIVISION
First Place: Igor Khukhua, Park University, violin
$2,000 Prize
​Runner Up: Thomas Cooper, New England Conservatory, violin
​$500 Prize
VOCAL DIVISION
First Place: Dorian McCall, University of Oklahoma, bass-baritone
$2,000 Prize
​Runner Up: Beatrice Kim, University of Oklahoma, soprano
​$500 Prize
PIANO DIVISION
First Place: Malcolm Liu, University of Kansas
$2,000 Prize
Runner Up: Junwen Liang, Indiana University
$500 Prize
---
The competition is administered by the Wichita Symphony Society, and is made possible by
The Naftzger Fund for Fine Arts, Inc.
Created by Mr. and Mrs. M.C. Naftzger in memory of
L.S. Naftzger, Ida L. Naftzger, and Lee Southwell Naftzger II
---
2019 Naftzger Young Artists Auditions and Music Awards
A Competition for Advanced Music Students
Dates and Application Details TBA
Naftzger Young Artist Award: $5,000
Three Naftzger Division Awards: $2,000
Four Naftzger Division Runner-Up Awards: $500
Total cash prizes of $13,000 will be awarded
Please contact Tiffany Bell with questions regarding the Naftzger Young Artists Auditions and Music Awards.
Tiffany Bell
Education & Community Engagement Manager
316-267-5259 ext. 105
tbell@wso.org