Buy Now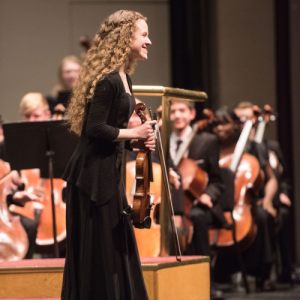 Youth Orchestras & Ensembles
Wichita Symphony Youth Orchestras - Fall Concert
---
SATURDAY | November 20, 2021 | 7:30 PM
WIND ENSEMBLE
Dr. Timothy Shade, Conductor
JAMES M. DAVID Lookfar Chorale for Ursula
PERCY GRAINGER arr. SHEERAN Molly on the Shore
JACK STAMP Gambol
YOUTH SYMPHONY
Dr. Mark Laycock, Conductor
SIBELIUS Finlandia
MENDELSSOHN Symphony No. 5 in D Major (Reformation)
ARTURO MÁRQUEZ Conga del Fuego Nuevo
--------------------------------------------------------------------------------
SUNDAY | November 21, 2021 | 3:00 PM
PAUL A. STEPHENS STRING QUARTET
Mitchell Kallman and Sophie Thiessen, violins; Victoria Weir, viola; Kenny Phan, cello
Guillermo Mireles, coach
MITCHELL A. BERMAN STRING QUARTET
Ryan Byun and Sophia Lin, violins; Jamasa White, viola; Zakayo Kapten, cello
Hailey Treas, coach
YOUTH CHAMBER PLAYERS
Eric Crawford, Conductor
JEFFREY S. BISHOP The Skyliners
TRACEY R. RUSH Fantasia in F
KARL JENKINS Palladio (Mov't 1)
ERVIN T. ROUSE arr. CUSTER Orange Blossom Special
REPERTORY ORCHESTRA
Dr. Wesley DeSpain, conductor
HANDEL Water Music
VAUGHAN WILLIAMS March Past of the Kitchen Utensils from "The Wasps"
BEETHOVEN Symphony No. 5 in C minor (Mov't 1)
This concert is General Admission. All attendees, regardless of age, must have a ticket in order to attend this concert. Your ticket admits you to both the Saturday, November 20 concert and Sunday, November 21 concert.
Support for the Wichita Symphony Youth Orchestras is provided by
THE SAM AND RIE BLOOMFIELD FOUNDATION

At the Wichita Symphony, we are excited to be BETTER TOGETHER, ONCE AGAIN! We're glad to welcome you back into the Concert Hall, and are doing everything we can to do so as safely as possible. As such the Wichita Symphony is requiring that all concertgoers, regardless of age or vaccination status, wear a mask at all times when indoors at Century II. Masks (fabric, or disposible - plastic face shields are not acceptable) must be worn over the nose and mouth.
Should these expectations change, the WSO will inform patrons in advance of affected performance. For more information on our COVID-19 Health and Safety Policies, please visit WichitaSymphony.org/public-updates.
For more information on social distancing
and mask expectations for this concert, please
CLICK HERE.