Buy Tickets to this Concert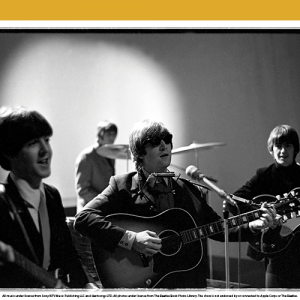 2019-2020 Season, Pops Concerts
REVOLUTION: Music of The Beatles - A Symphonic Experience
---
YOU SAY YOU WANT A REVOLUTION? Celebrate The Beatles' profound musicality and enduring melodies with a richly layered musical journey brought to life by the WSO, guest singers, and imagery of the Fab Four projected above the Orchestra!
What's interesting about these concerts?
Come together - Join the WSO for 28 of The Beatles greatest hits like you've never heard them, including Yesterday, Ticket to Ride, Eleanor Rigby, Something, Let it Be, and so much more.
NOT your average tribute band show - No one can do it like The Beatles did, but you will experience the Fab Four through images and original projection design on a screen above the musicians, all while we showcase the artistry of their music with a full orchestra and vocalists.

Out of the Vault and Onto the Stage - Hundreds of rare and unseen photos from the London-based archives of The Beatles official fan magazine – THE BEATLES BOOK MONTHLY – will come out of the vault to celebrate the band's massive cultural impact, a sample of which can be viewed below.

Sponsored by

JOYCE & GARY BACHUS
THE GARVEY GIRLS: EMILY BONAVIA, ANN GARVEY, & JULIE SHEPPARD
TEXTRON AVIATION
THE YARD
Media Sponsor
KMUW WICHITA PUBLIC RADIO
All music under license from Sony/ATV Music Publishing LLC and Harrisongs LTD. All photos under license from The Beatles Book Photo Library. The show is not endorsed by or connected to Apple Corps or The Beatles.