Tickets start at only $25!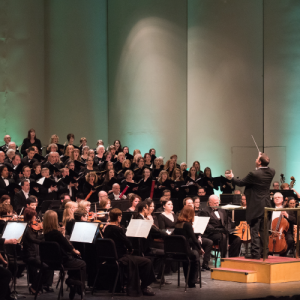 Masterworks
Mass Appeal: Wichita Symphony Chorus in Concert
---
featuring Wichita Symphony Chorus
First, Mendelssohn whisks you away to the islands off the coast of Scotland. Then, celebrate with us as the Wichita Symphony Chorus takes the stage, for the first time in over a year, to present Schubert's Mass in G. And finally, bask in the sunshine of Beethoven's bright and cheerful Symphony No. 4. This concert is sure to appeal to the music lover in you!
MENDELSSOHN The Hebrides (Fingal's Cave)
SCHUBERT Mass in G
BEETHOVEN Symphony No. 4

This concert will be broadcast on Radio Kansas on Friday, April 22, 2022 at 7:00 PM. To see our full Masterworks broadcast schedule, click here.


At the Wichita Symphony, we are excited to be BETTER TOGETHER, ONCE AGAIN! Thank you for helping us return to LIVE music while maintaining the health & safety of our musicians, volunteers, staff, and patrons like you!
Vaccination/Negative COVID test requirements:
Beginning January 1, 2022, the Board of Directors for the Wichita Symphony Society requires all patrons to show, with government-issued photo ID, proof of complete COVID-19 vaccination or a negative COVID test from within 72-hours of the concert. We ask that all audience members continue to wear cloth or disposable face masks worn over the mouth and nose, as they have in throughout the fall. For more details, please visit WichitaSymphony.org/public-updates.
Proof of COVID vaccination OR Negative COVID test within 72-hours of the concert are required from all concertgoers.
Masks are also required.

For more information on health and safety expectations, please CLICK HERE.