Buy Tickets to this Concert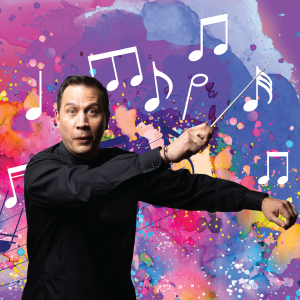 2019-2020 Season, Masterworks
Carmina Burana
---
STACY GARROP Pandora Undone
ORFF Carmina Burana
Experience the spine-tingling thunder of one of the most popular choral works of all time, Carl Orff's Carmina Burana, as the Wichita Symphony and powerful Symphony chorus lead us in a heart pounding celebration of the drama of humanity.
What's interesting about these concerts?
Full Hearts, Full Stage, Can't Lose – Carmina Burana is an eclectic collection of songs that require tremendous symphonic forces. The stage is going to be filled to the brim with our Orchestra, full chorus, children's chorus, soloists, and oh yeah, Maestro Hege.
You've DEFINITELY Heard this Before - The title Carmina Burana might not mean anything to you, but the sinister opening of this humongous piece, O Fortuna, has so many pop culture references, they have their own Wikipedia page. We particularly enjoy this spoof by Carlton Draught.
LIVING Composer Alert – Yes, people still write music for orchestras, and it's pretty darn cool stuff if you ask us. For this concert, we'll open with Stacy Garrop's Pandora Undone, a shorter movement from her larger Mythology Symphony.
---
ARTISTS
ADELAIDE BOEDECKER soprano
JONATHAN BLALOCK tenor
LUIS OROZCO baritone
WICHITA SYMPHONY
Daniel Hege, Conductor
WICHITA SYMPHONY CHORUS
Matthew Udland, Director
WICHITA COMMUNITY CHILDREN'S CHOIR
Karen Sims, Musical Director
Sponsored by
DRS. DANIEL & MARTHA HOUSHOLDER
Hear samples of the music to be performed at this concert
---

Get More! Join Inside the Music for an in-depth conversation about this concert

Arrive Early for Concert Talks
If you'd like to learn more about the music in our concert programs, Concert Talks are just what you need! Before every Masterworks Concert, the Wichita Symphony Orchestra will present pre-concert talks which help prepare you and deepen your understanding of the music to be performed in the program. Sometimes our guest soloists even join Maestro Hege for a discussion of their concerto collaboration! Free to all ticket holders, Concert Talks take place in the Concert Hall one hour prior to each Masterworks performance.