Buy Raffle Ticket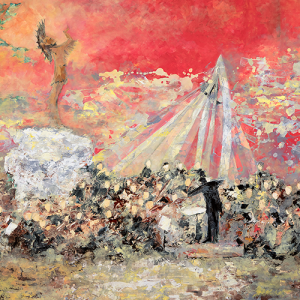 75th Anniversary Painting Raffle
---
Purchase your raffle tickets for a chance to win the original painting commissioned for our 75th Anniversary Season! A winner will be drawn live on the Wichita Symphony's Facebook Page on Monday, May 6, 2019 at noon. Now through May 4, you can purchase your tickets online, by calling the Box Office at 316.267.7658, or in person at all our concerts in the lobby.
RAFFLE TICKETS: One (1) for $20 or Three (3) for $50
FIRST WINNER: Original 60" x 36" Oil Painting
SECOND WINNER: 45" x 27" Bamboo Print
If you don't want to take your chances, you can purchase a 24 x 16" print. Prints are limited edition, signed and numbered.
See the full painting here
Artist: Kamron Coleman