Why Buy a Subscription?
If you want to experience the magic of the Symphony throughout the year, subscriptions are the best value, saving you 10 - 15% off the cost of your single tickets. You also get the best seats available, reserving them before single tickets go on sale to the public!
How to Order
You can order your tickets using the links below, or by calling the Symphony Box Office at (316) 267-7658.
Note: you won't be able to select your seats online, but the Symphony Box Office will reach out to you directly before selecting seats.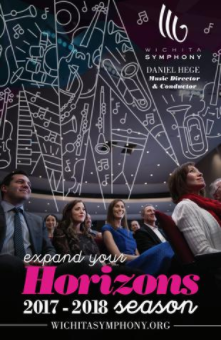 View 2017-2018 Season Brochure
Symphony Box Office
Century II Concert Hall
(316) 267-7658 | WichitaSymphony.org
Monday - Friday, 10am - 5pm
2017-2018 SUBSCRIPTIONS
PLEASE NOTE: Section C for The Music of Harry Potter is sold out. This affects our Compose Your Own and Pops subscriptions for Section C only. If you wish to order Section C subscriptions that include The Music of Harry Potter, please call the Symphony Box Office at 316.267.7658 for assistance.
Compose Your Own Subscription
10% off Classics and/or Pops

(4-7 Concerts)
Learn More
Flex4 Subscription
$99 for four concert vouchers

(as many as 4 concerts)
Learn More